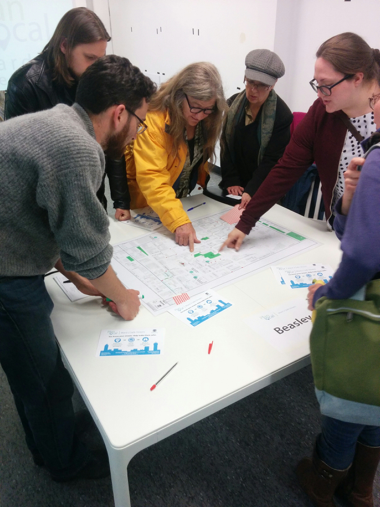 It was 8:30 a.m. on a Tuesday morning in late June. Kids and parents trickled into the playground. There was a buzz outside Dr. Edgar Davey Elementary School in central Hamilton, Ontario. School was almost done and the excitement was palpable.
The end of another school year wasn't the only event happening that day. The students also had visitors. Mingling amongst the parents and kids were representatives of PlanLocal Ward 2 Safe Streets. The local city councillor had initiated the PlanLocal public engagement process to enlist residents to help identify and prioritize where $1 million in infrastructure funds should be spent for local safe street projects.
Neighbourhoods in Hamilton, a city undergoing a dynamic post-industrial revitalization, have been engaging in a variety of new approaches to participatory planning. Over the last six or so years, citizens have taken a direct role in allocating over $10 million in their communities.
PlanLocal was developed with the help of Civicplan. The program engages residents directly in determining the issues most significant to their neighbourhoods. It offers an opportunity for residents and local businesses to guide the urban planning process through citizen-supported decision-making, based on the belief that no one knows a community better than the people who live there.
PlanLocal allows local leaders to capture this knowledge to help shape responsive public policy. This responsiveness means more than a one-way survey of residents' thoughts about an issue. Rather, it allows for a dialogue on how to best address civic challenges, resulting in a better mutual understanding of municipal processes and community issues alike.
Effective participatory planning needs to connect citizens, city staff and political leaders in a shared process that is understood by all three groups. Establishing a process whereby political leaders can channel public knowledge into actionable projects for city staff is a vital tool for building vibrant local communities.
The first step in the PlanLocal process is choosing a targeted, concrete theme as a focus. Attempting to address too many policy issues at once can narrow citizen participation to a smaller, hyper-engaged group. Residents and business owners have busy lives and multiple priorities, so it's important for the process to be as straightforward, clear and relevant as possible.
For the 2016 PlanLocal campaign in Hamilton's Ward 2, Councillor Jason Farr chose the theme of safe streets. As Farr argued, "Without question, the safety of our neighbourhood streets is the foundation of a vibrant, prosperous community and I hear this reinforced by constituents all the time."
The second step involves asking the community to identify problem locations in their neighbourhoods and to propose solutions to improve the safety of their streets. This may seem basic, but it is the reverse of what typically happens at city hall, where solutions are identified by professionals before public input is sought.  Also, street safety is typically seen as a traffic issue and therefore looked at from the perspective of the driver. Residents have a different understanding of what street safety means and therefore identify a variety of other problems and solutions.
Outreach is done through a variety of strategies, including public events, online outreach, local media, mail-outs and working with neighbourhood associations. One particularly effective method was an online tool that allowed residents and business owners to pinpoint locations on an interactive map.
The third step in the PlanLocal process is to analyze and translate the ideas identified into a voting shortlist that is easy to understand, reflects the priorities of the public and has been reviewed by city staff to ensure all projects are actionable. In the final step, residents vote on this shortlist of ideas generated from the community.
Using a variety of methods, the PlanLocal process reaches out to every home and business in the ward during this phase. The process leverages existing civic institutions, such as libraries, recreation centres and schools, like Dr. Davey, to reach a wider range of constituents. In the end it produces a concrete list of actionable, publicly supported projects that can be submitted into the municipal budget and implemented as soon as a year after that.
Hamilton's Ward 2 PlanLocal experience demonstrates that through a thoughtful and inclusive participatory planning process, civic leaders and the public can work together to address challenges effectively. It relies on the knowledge and experience of the community, elected representatives and city staff to inform concrete actions and policy change.
Perhaps best of all, citizens see the results of their engagement on the ground, in their neighbourhoods, on a daily basis, reinforcing the positive role local government can play in their lives.
---
This post was adapted from article that was previously published in The Canadian Centre for Policy Alternatives Monitor.
Social Share