With the federal budget approaching, the Canadian Centre for Policy Alternatives (CCPA) has released its 2017 Alternative Federal Budget (AFB). Among its many thoughtful and sustainable recommendations is a much needed investment that is very relevant to my hometown of Hamilton.
Civicplan Principal Paul Shaker contributes to the AFB section on Infrastructure and Cities, which advances the urban agenda at the federal level through a series of policy proposals and recommendations. This year's AFB calls for stable, sufficient and long-term local infrastructure funding to be administered by a new National Community Development Agency.  One task of the agency would be to develop and coordinate a "National Brownfield Redevelopment Strategy to bring former industrial sites back to productive community and economic use."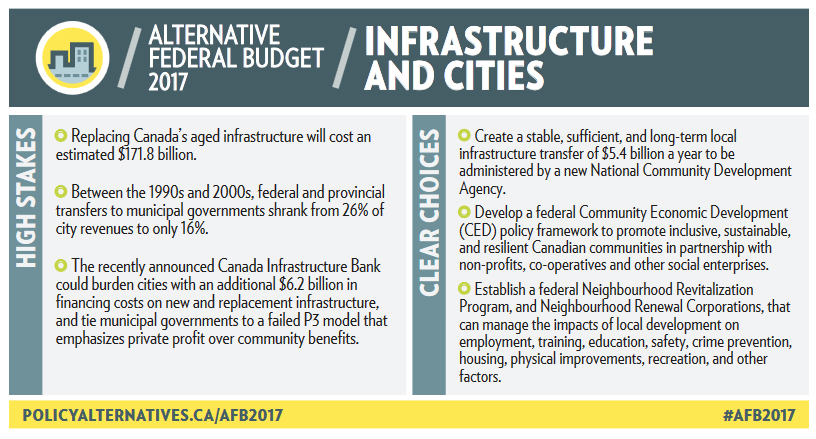 Here's hoping the federal government is paying attention and includes similar measures in their budget. To be truly effective, the federal budget's infrastructure investments should include the most essential foundation of our economy: the land upon which all economic activity rests.
In Hamilton, a large Canadian city with a significant remaining brownfield footprint, the problem is often not a lack of infrastructure, but rather the under-utilization of our existing capacity.  The city boasts the deepest port on Lake Ontario, a large cargo airport, and excellent rail, road, and highway systems.  It has a skilled workforce and internationally recognized post-secondary institutions.  To top it off, it also sits at the nexus of the bountiful economic corridors stretching to Montreal, Chicago, and New York City.
Yet much of this capacity is underutilized. The roads that once carried tens of thousands of workers to the steel yards remain. The port and rail systems that carried our steel across the country and around the world also remain. Yet traffic on our transportation infrastructure slowed as our industrial sector declined.
While there has been encouraging progress in recent years, especially with diversification at the port, which has found new tenants to replace old ones, the transportation system is, overall, below capacity. Hamilton cannot take full advantage of this existing infrastructure base because the accumulated effects of a century of industrialization have poisoned acres of otherwise valuable land.
This poisoning and subsequent dereliction occurred at industrial sites in many communities across this country, from Windsor to Halifax to Winnipeg and beyond. Many of these communities are struggling to put brownfield sites back to productive use, and to reverse the declines so familiar to 'rust-belt' cities across the developed world.
Brownfield remediation could turn this trend around and serve as a powerful source of stimulus.  The remediation of our industrial legacy sites will create immediate jobs during the process and lay the foundation for future economic growth.  This investment would be an enormous boon for Hamilton, for other industrial cities, and ultimately for all of Canada.
If we are looking for the most significant return on investment, both immediate and long-term, there are few projects that could be as effective.  Where else can you capitalize on this concentration of skilled labour, research capacity, and existing access to markets?  And what other investment can have as significant effects on economic growth, environmental sustainability, and overall community welfare?
In Hamilton, we are at a pivotal moment in the city's history.  A deal is in the works for the former Stelco property that is being viewed as a potential game changer and a precedent-setting example of brownfield redevelopment. The property is 320 hectares, or roughly four times the size of Exhibition Place in Toronto. The deal will see 200 hectares of the property remediated and then sold or leased. The deal is not without controversy, but no one questions the need for remediating the land and reinvesting in this vital economic center. However, there is a gap in funding to make this massive remediation happen. This is where a federal government investment is crucial.
The Stelco deal comes as the city is experiencing a Renaissance in many other areas.  The long-neglected urban core is revitalizing, new innovative industries are emerging, and we are taking significant steps to roll back the environmental damage of an earlier era.
Federal investment in brownfield remediation could play a deciding role in the transformation of Hamilton and of many other industrial communities. The potential benefits are enormous and could lay the foundation for a prosperous revitalization in the country's industrial heartland. The Federal Government has stated infrastructure investment goals of investing in "good jobs, a cleaner environment and thriving communities for years to come;" there can be few better ways for achieving these goals than brownfield redevelopment.
Graeme Douglas is an Associate with Civicplan.
Social Share