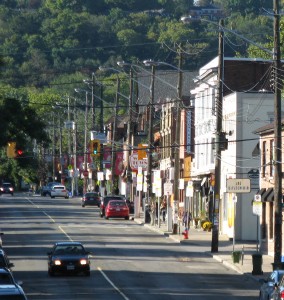 When you think about shopping local, you often think about different districts in your city.  In Hamilton, Canada, locals think of places such as Concession Street, Locke Street or Downtown Dundas. Each of these distinct areas has a different character that influences how people describe them. Usually, it's the mix of local businesses that help define an area. For example, when residents think of James North they think of the arts. Likewise, Ottawa Street is known for antiques and textiles. Locally owned businesses are a key part of this character, whether they serve the needs of local residents or attract city-wide and regional customers. Local ownership gives particular flavour to an area.
While shopping is a key contributor to local character, it is one part of a larger picture. Physical spaces and social activities also influence the character of a district. For example, McMaster University — including its students, staff and faculty — has a strong influence on Westdale Village.
Understanding the character of places is complex mainly because character is grounded in the people that make their lives there and how they interact with spaces. As people change so to do the spaces they inhabit.
Understanding how these different factors work together to shape a community informs our work as community planners and researchers. Over a number of years, Civicplan has developed and refined methods to measure the impact of these factors. One example is the community handprint tool that measures a number of community elements that help describe the character of a particular district. We have employed this tool in work with a number of community partners on a variety of projects.
Briefly, the community handprint involves the following elements:
Creative Density: Creative industries have a strong influence on the character of the areas they inhabit. Sometimes seen as the forerunner to renewal, creative industries in Hamilton encompass a variety of professions including music and record stores, art galleries and crafts shops, photography, graphic design, computer gaming, animation, and architecture.
Creative Diversity: Creative diversity and specialization illustrate the various creative activities found in a district and the degree to which clusters of a particular activities are found in any district. The presence of clustering can help define the identity of a district though specialization such as a gallery or textile district.
Built Heritage: The "feel" of a street is often influenced by the buildings that form it. Certainly, the age, history, and architecture of structures contribute to the atmosphere of a district which can influence its character.
Green Space: The natural environment and presence of green space within an accessible walkable distance contribute to the experience of an area. This includes parks and trails, as well as unique natural features such as the Niagara Escarpment or Cootes Paradise.
Access: Access refers to the ability to move to, from and within a district via different means of transportation, as well as the area's pedestrian friendliness. The greater the access, the greater the opportunity for a variety of people to travel to, from and within the district, increasing the exposure to the character of that area.
Social Gathering: The social life of a district is also central to understanding the character of an area. Where and why people come together and interact gives rise to a sense of community and personality. This includes a range of activities and spaces, from a Sunday mass at a local church to a weekly farmer's market, to a large outdoor summer festival.
When applied to a particular area, a community handprint starts to describe the character of that area. For example, the illustration below is a community handprint for Locke Street: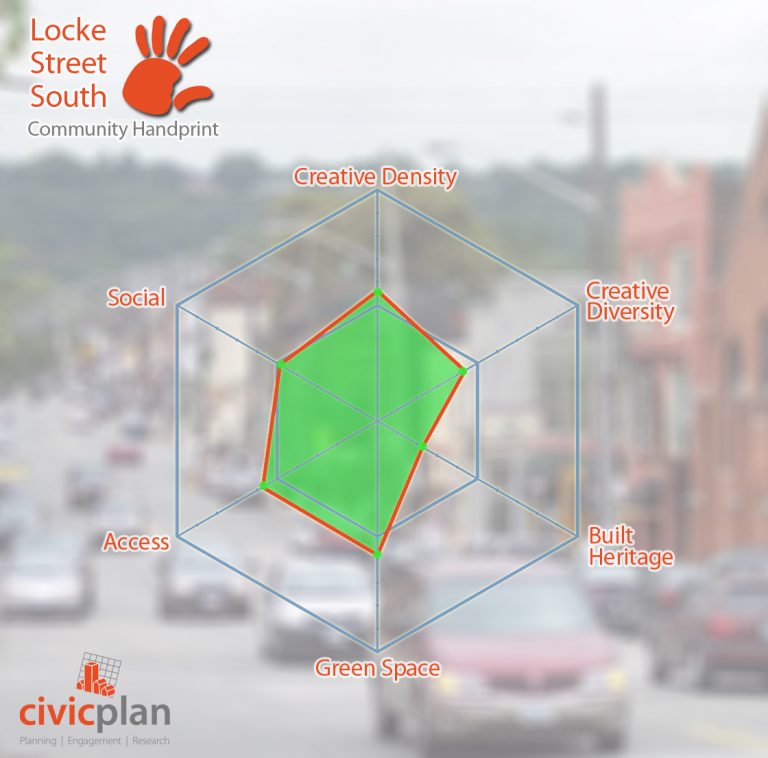 What the handprint shows is that Locke Street's character is expressed through its creative density, social life, green space and access. Many people come to Locke Street for the shopping and the area has notable creative density including local shopping including fashion, antique/vintage, and art and craft galleries. Another characteristic of Locke Street is the social life of the street and surrounding area including its daily routines like school kids travelling to and from school each day, weekly church services, seasonal farmers' market and the annual Locke Street festival. Green space is part of the character of the Locke Street district due to its location near the base of the Niagara Escarpment and its variety of walkable parks. As a densely built older urban area, access is also part of the character of Locke Street. This is one example of how a community handprint can describe the character of a district.
Understanding the character of places is complex mainly because character is grounded in the people that make their lives there and how they interact with spaces. As people change so too do the spaces they inhabit. A community handprint offers a snapshot in time of an area's character. It provides a starting point to better understand what makes a district unique.
For more information on Community Handprints, contact us. An original version of this article was published on urbanicity.ca
Social Share