Running effective public engagement campaigns means addressing a number of challenging questions. How do you capture the attention of a community? How do you gain actionable insights from that community? And, ultimately, how can government be more responsive by putting those insights to work in the community?
Through over a decade's experience, Civicplan has developed the knowledge and tools to answers these questions. From our managed community engagement surveys to our flagship PlanLocal process, Civicplan has the custom tools to help you build stronger communities through engaged civic leadership.
We Understand the Value of Public Engagement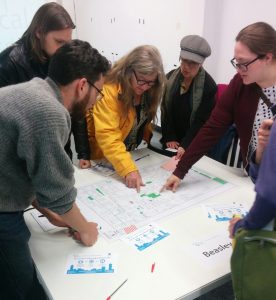 At Civicplan, we believe passionately in helping government be more responsive to its citizens. Responsive government works better, as leaders can learn directly from their constituents about the issues important to them at street level. No one knows a community better than the people who live and work there; good public policy should reflect that fact.
When people have a say on the policy activities that directly affect their community, from land use planning to local infrastructure spending, they are likely to have better attitudes toward government and have more trust in their leaders. They have a greater stake in their community, which promotes a greater sense of local civic pride. Civicplan's public engagement campaigns are specifically designed to foster that sense of pride through empowering local communities.
Our Services
We offer a variety of tools to meet your public engagement needs. Each project we work on is unique, so you can rely on us to develop a solution that will meet the specific needs of your organization. Whether your campaign is targeting a small local community or district of tens of thousands, we have the tools to meet your needs.
Our public engagement campaigns potentially include:
Strategic planning and process development;
Managed community engagement surveys combining the latest survey software with expertise in design and formulation;
Marketing and promotion (graphic design, advertising concept, hard copies of promotional materials, social media, public events, website development);
Building community – working with local stakeholders to build support for the campaign and reach out to new communities;
Data collection and organization;
Professional reporting on results for both private and public consumption.
Public Engagement Campaign Types
PlanLocal
PlanLocal is Civicplan's premiere public engagement campaign service. This is a turn-key participatory planning process in which our team manages the entire engagement process. We handle strategic development, execution of marketing and promotion, community management, data collection and collation, and creation of a final results report. We work directly with your office, as well as representatives of local stakeholder groups, to run a process that is both managed and inclusive.
Learn more about a 2016 PlanLocal public engagement campaign here, where you can read the full report on the PlanLocal Ward 2 Safe Streets process.
CivicSurveys
As part of a larger campaign or as a standalone service, our CivicSurveys tool will help you gain actionable insights into your community. Our team works with you to develop community engagement surveys that will deliver the information you need. Unlike other online survey tools, we bring years of expertise in survey development to your project. This experience means we can help you ask your questions in a way that encourages informed, thoughtful responses from your constituents. We also breakdown the data, ensuring the survey provides the insights into your community you need.
Contact Us
For more information about our past public engagement campaigns, please view the portfolio below. You can contact us at info(at)civicplan.ca or call at 905-528-5607.